Rix's Story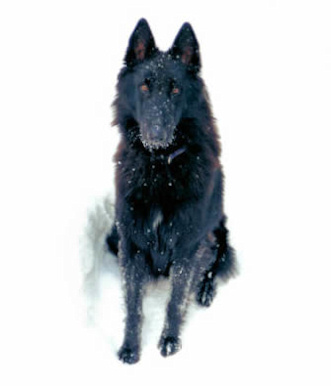 Registered Name –
Masterpiece's Top Gun "Rix"
11/19/1999 to 5/23/2011

Rix's litter consisted of 4 pups. He was, by far, the most beautiful pup of the litter. The problem was, he was slightly less than perfect in other ways. This beautiful little black pup had a temperament issue – he was not social. He preferred to be by himself and did not necessarily warm to people or other dogs. The breeder was not quite sure what to do with him. She did not want to keep him (she had one of the other pups), did not want to use him for breeding (because of his temperament), could not place him easily and was quite busy with her human family as she had just had her second child.

Well, it just so happened that I fell in love with him. Until he was about 4 months old, he came to spend time at my house on the weekends – I was trying to help socialize him. At about 4 months old, he went to live with another friend for about 2 months. When I saw that he had been returned, I inquired about him again – he started to come home with me and we continued work on his social skills. All the while, Rix was becoming part of my family. I really had no intention of keeping him, but wanted to continue to help out (That is what I kept telling myself anyway). At Christmas time of that year, I received a very special gift – Rix came to live with me for good (Thank you Laurie!).

Over the years, Rix had learned to love people and accept other dogs. He was a very happy boy. I can honestly say Rix brought a smile to my face every day! And every time I think of him, he still does. He had a great gift. One of a kind.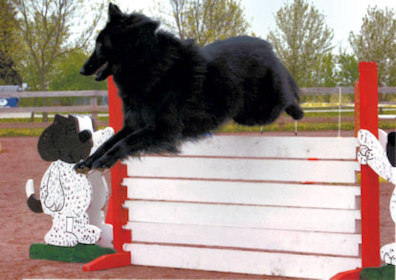 Rix's agility titles include:
AKC – NA, NAJ, OA, OAJ, AX, AXJ, NAP, NJP, OAP, OJP, AJP, AXP

NADAC – NAC, NJC, TN-N

UKC – UACH, UAG I, UAG II

Rix Agility Video
NADAC Jumpers
Rix retired from agility at age 6 – he decided being the official house/fishing/cabin dog was more to his liking.
Beth Knotts, Proprietor • Stevens Point, WI
Ph: 715-344-0173
Email: