Dude's Story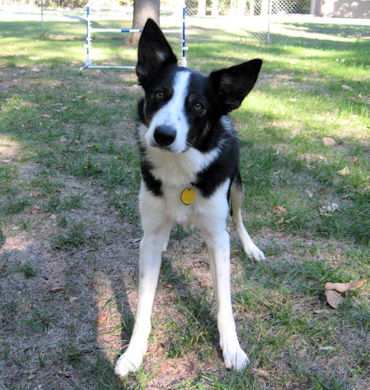 Dude Knotts
"Dude"
I guess when Dude grows up, and I have more time, I'll have to change the "About Us" page as it reads "All my dogs were rescues of sorts" that is no longer true.

When I realized it was time to add a new dog to the family, I had some big decisions to make. Although, I have loved and cherished all my rescue dogs, I decided that first and foremost, I needed to find the best match for Peter and his "not quite perfect" disposition. I felt I needed to look for the most stable of dogs – one with a very good and sound temperament.  I know that there is never a guarantee of that, but I felt if I looked for a pup from parents I could meet, I might have a better chance of getting just that.

I had been moderately interested in herding in the past and had watched friends taking herding lessons with their dogs. One day, while I was in the midst of trying to decide where to get my "perfect puppy" from, I came upon the website of the man who had been giving the herding lessons.  Well, it just so happened he had a litter of pups for sale! I could not believe my good luck! I'd met his dogs. They all seemed to be friendly and stable!  I felt everything had just fallen into place! I could meet the parents AND pick my own puppy! How perfect! 

I called him. My husband and I went down to meet the pups the next day. The minute we walked into the building where the pups were housed, I knew we'd find the perfect match. We walked up to the pen and Chris's eye's met with the eyes of the most perfect puppy in the world. I feel it was fate.
| | |
| --- | --- |
| | |

We named him Dude. He is the best! He gets along beautifully with Peter and the cats. Peter and he play daily. He is a fun loving and friendly dog with a great sense of humor. We have so much fun with him!

Dude excels at both herding and agility. He is a blast to work with! Below are some of our accomplishments.
Here are some videos of us with the sheep:
#1 Herding- after 10 lessons, 9 months old ~ Part 1
#2 Herding- after 10 lessons, 9 months old ~ Part 2
September 2013 Dude entered his first USBCHA Herding Trial- Dude earned a 1st & 3rd place in the Novice Class.
Dude's accomplishments and titles include-
AKC: NA, NAJ, OA, OAJ, AX, AXJ, MX, MXJ, XF, MACH, MXB, MXS, MJB
USDAA: AD- Agility Dog, AG- Advanced Gambler, AR- Advanced Relay, AAD- Advanced Agility Dog, ADCH- Agility Dog Champion, TM Bronze, SACH Bronze, SCH Bronze, JCH Bronze
Dude's Agility Videos
AKC Open Standard- shows blind cross, 2 on 2 off contacts
AKC Novice Jumpers with Weaves - one of our first runs
AKC Masters Standard - shows 2 on 2 off contacts, pull to tunnel
AKC Masters Standard- shows naughty dog stay, fade from dogwalk, rear cross at poles
AKC Masters Standard- shows 2 blind crosses
AKC Masters Jumpers with Weaves- rear cross fade from poles, 2 blind crosses
AKC Masters Jumpers with Weaves- 26" jump height
AKC Masters Jumpers with Weaves- shows front cross, blind cross
AKC Masters Jumpers with Weaves- shows blind cross, collected turn cue, fade from poles
AKC Nationals: Jumpers with Weaves- 25.62 seconds
AKC Nationals: Hybrid- 27.072 seconds
AKC Nationals: Standard- my anxiety and lack of patience at the Aframe cost us yet another run! Arrrggg...
USDAA Master Snooker - a very confusing course but we managed to Eek out a Super Q!
USDAA Master Pairs
Younger Dude Photos

Top Left: Dude first came home.
Top Right: Dude 4-1/2 months old.
Right: Dude 6 months old.

Beth Knotts, Proprietor • Stevens Point, WI
Ph: 715-344-0173
Email: